Australian Embassy in Myanmar is on Facebook

Australian Embassy in Myanmar
This website also contains links to other websites which outline the roles and responsibilities of the different agencies and departments of the Australian government.
We would welcome any comments or suggestions you might wish to make about this website and the information it contains.
The Australian Embassy is located in Vantage Tower.
Vantage Tower, 623 Pyay Road, Yangon, Myanmar +95 1 230 7410
www.myanmar.embassy.gov.au

AusEmbMyr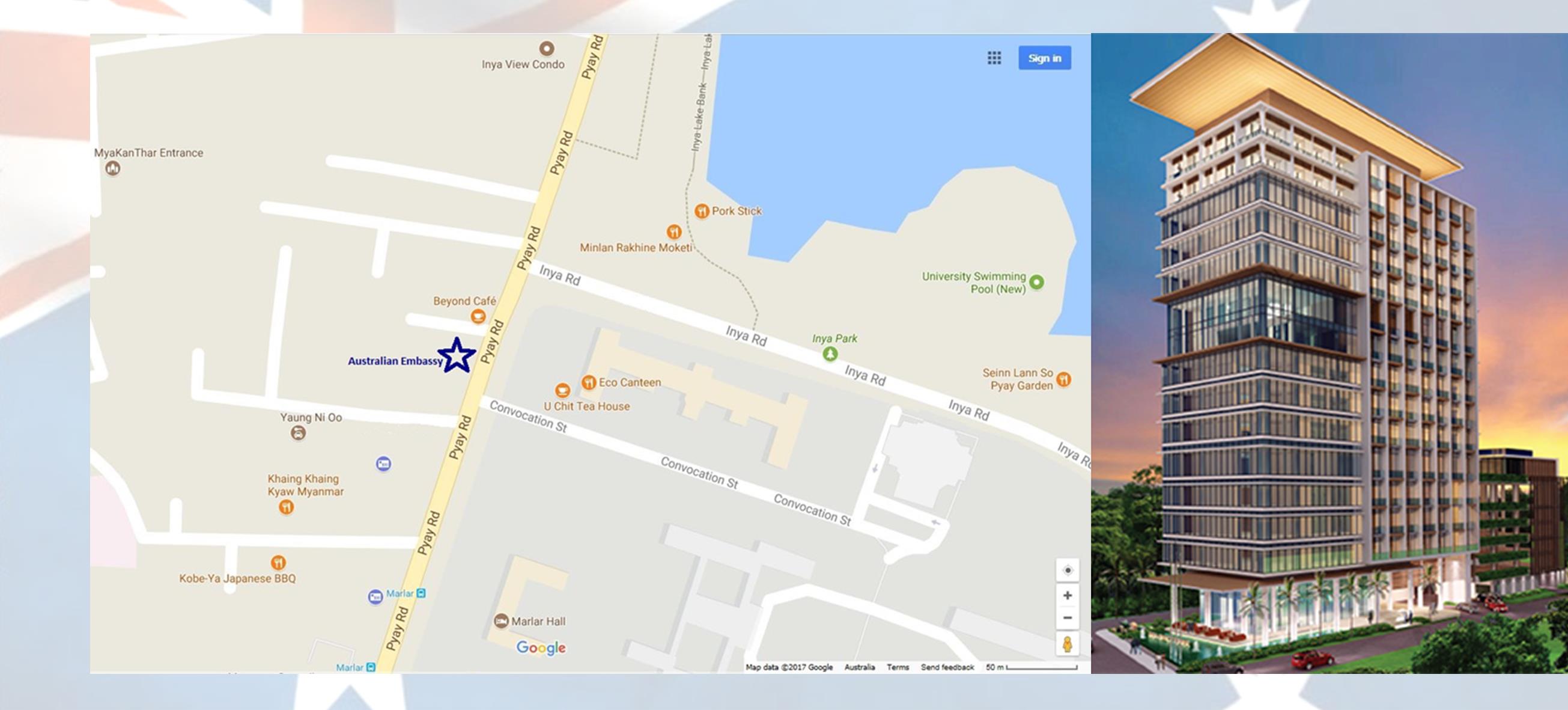 Consular Information for Australians
Contacting the Embassy
The Embassy will continue to assist Australians in Myanmar. We are operating by appointment only, unless it is an emergency.
We want to keep in contact with each and every one of you. Email us and we can set up an appointment to discuss any problems you may be facing.
You can still email or call us. The Embassy's reception email is [email protected] and our consular inbox is [email protected]. The Embassy's switchboard number is +95 12307410 .
If you need to contact us urgently please use Australia's Global Emergency Consular Hotline number is +61 (2) 6261 3305
. International calling rates may apply. Check with your phone carrier for international voice call charges before making international calls
Follow the Australian Embassy in Myanmar on Facebook: facebook.com/AusEmbMyr.
Latest Travel Advice
Subscribe to our Smartraveller Travel Advice at the link below:
Information on COVID-19
For information on COVID-19 please visit our COVID-19 page.
Are you applying for an Australian Passport?
Please ensure your passport remains valid at all times. You should allow up to 6 weeks to receive a passport. If that's too long for you, priority processing might be the answer. Further information on applying for a passport is available on our Passports page.
The Embassy is providing passport services to clients by appointment only. For enquiries or to make an appointment, please email [email protected].
Are you an Australian living in Myanmar?
For information for Australians remaining in Myanmar please visit Information for Australians.
Are you planning to travel or return to Australia?
For information on travel to Australia please visit Information for Australians.
Are you planning to travel to Myanmar?
All enquiries by Australians planning to travel to Myanmar should be directed to their local Myanmar Embassy to seek advice on travel arrangements and to submit a visa application.
Latest News
23 July 2021
Joint Statement from Ambassadors to Myanmar
မြန်မာနိုင်ငံဆိုင်ရာသံအမတ်ကြီးများ၏ ပူးတွဲကြေညာချက်
ထောင်အတွင်းလက်ရှိဖြစ်ပွားနေသော ကိုဗစ်-၁၉ ရောဂါကူးစက်ပြန့်ပွားမှုကို ကောင်းမွန်စွာကိုင်တွယ်ထိန်းချုပ်နိုင်ခြင်းမရှိသောကြောင့် ရန်ကုန်အင်းစိန်ထောင်အတွင်း ဖမ်းဆီးထိန်းသိမ်းခံနေရသူများက ဆန္ဒပြမှုတစ်ရပ်ဖြစ်ပွားခဲ့ကြောင်းမိမိတို့သိရှိရပါသည်။ ဤအခြေအနေကို ငြိမ်းငြိမ်းချမ်းချမ်းဖြေရှင်းရန်၊ ယင်းထောင်နှင့် အခြားထောင်များအတွင်းရှိ ဖမ်းဆီးထိန်းသိမ်းခံထား
ရသူအားလုံးအတွက် ကောင်းမွန်သော ကျန်းမာရေးစောင့်ရှောက်မှု နည်းလမ်းတကျရရှိရေးအတွက် အခြေခံလူ့အခွင့်အရေးများကို လေးစားလိုက်နာရန် သက်ဆိုင်ရာအာဏာပိုင်များကို မိမိတို့တိုက်တွန်းပါသည်။ ဆက်လက်ဖြစ်ပေါ်ပြောင်းလဲနေသောအခြအနေကို မိမိတို့အနီးကပ်စောင့်ကြည့်နေပါသည်။
ဤကြေညာချက်ကို ဩစတေးလျ၊ ကနေဒါ၊ မြန်မာနိုင်ငံဆိုင်ရာဥရောပသမဂ္ဂသံရုံးနှင့် ဥရောပသမဂ္ဂအဖွဲ့ဝင်နိုင်ငံများ၏သံရုံးများဖြစ်ကြသော - ချက်သမ္မတနိုင်ငံ၊ ဒိန်းမတ်၊ ဖင်လန်၊ ပြင်သစ်၊ ဂျာမနီ၊ အီတလီ၊ နယ်သာလန်၊ စပိန်နှင့် ဆွီဒင်နိုင်ငံ တို့အပြင် ဆွစ်ဇာလန်၊ နော်ဝေ၊ ယူကေနှင့် အမေရိကန်နိုင်ငံတို့မှ မြန်မာနိုင်ငံဆိုင်ရာသံအမတ်ကြီးများ၊ သံရုံးယာယီတာဝန်ခံများ နှင့် သံရုံးအကြီးအကဲများက ပူးပေါင်းလက်မှတ်ရေးထိုးထုတ်ပြန်ပါသည်။
We are aware that detainees in Yangon's Insein Prison staged a protest in part to raise awareness about the inadequate handling of the current COVID-19 outbreak in the facility. We urge the relevant authorities to resolve the situation peacefully and respect the basic right to proper healthcare for all those detained inside this and other prisons. We are following the situation closely as it continues to evolve.
Signed by the Ambassadors, Chargés d'Affaires, and Heads of Mission from Australia, Canada, the Delegation of the EU and European Union Member States with presence in Myanmar: Czech Republic, Denmark, Finland, France, Germany, Italy, Netherlands, Spain, and Sweden; as well as Switzerland, Norway, the United Kingdom; and the United States.
Australia Awards scholarships 2021 intake
Applications for the 2021 intake Australia Awards Scholarships closed on 30 June 2020 (11:59pm Canberra time / 8:29pm Yangon time).
Interviews for the 2021 intake will be held in 2021. The applicants will receive notification of the outcome of their application.
Apply online through the OASIS system: http://oasis.dfat.gov.au. Please note that the OASIS system operates best on Internet Explorer.
Australia Awards Myanmar scholarships are for Masters-level study in Australia. In Myanmar, applicants are required to be 25 years or older at 30 April 2020. Applicants are also required to have a minimum of 2 years of work experience.
Australia Awards scholarships are prestigious international awards offered by the Australian Government to the next generation of global leaders for development. Through study and research, recipients develop the skills and knowledge to drive change and help build enduring people-to-people links with Australia.
Applicants are assessed on their professional and personal qualities, academic competence and, most importantly, their potential to positively influence Myanmar's development.
For more information:
Country Profile 2020: click here
Sample application form (pdf): click here
Sample application form (doc): click here
Referee report template: click here
Scholarships Policy Handbook: https://dfat.gov.au/about-us/publications/Documents/aus-awards-scholarships-policy-handbook.pdf