Australian Embassy in Myanmar is on Facebook

Australian Embassy in Myanmar
Welcome to the home page of the Australian Embassy in Myanmar. The following pages include information about services for Australian travellers overseas, advice about immigration and visas, information about Australia's foreign policy and development assistance programs, and general information about Australia.
This website also contains links to other websites which outline the roles and responsibilities of the different agencies and departments of the Australian government.
We would welcome any comments or suggestions you might wish to make about this website and the information it contains.
The Australian Embassy is now located in Vantage Tower.
Vantage Tower, 623 Pyay Road, Yangon, Myanmar +95 1 230 7410
www.myanmar.embassy.gov.au

AusEmbMyr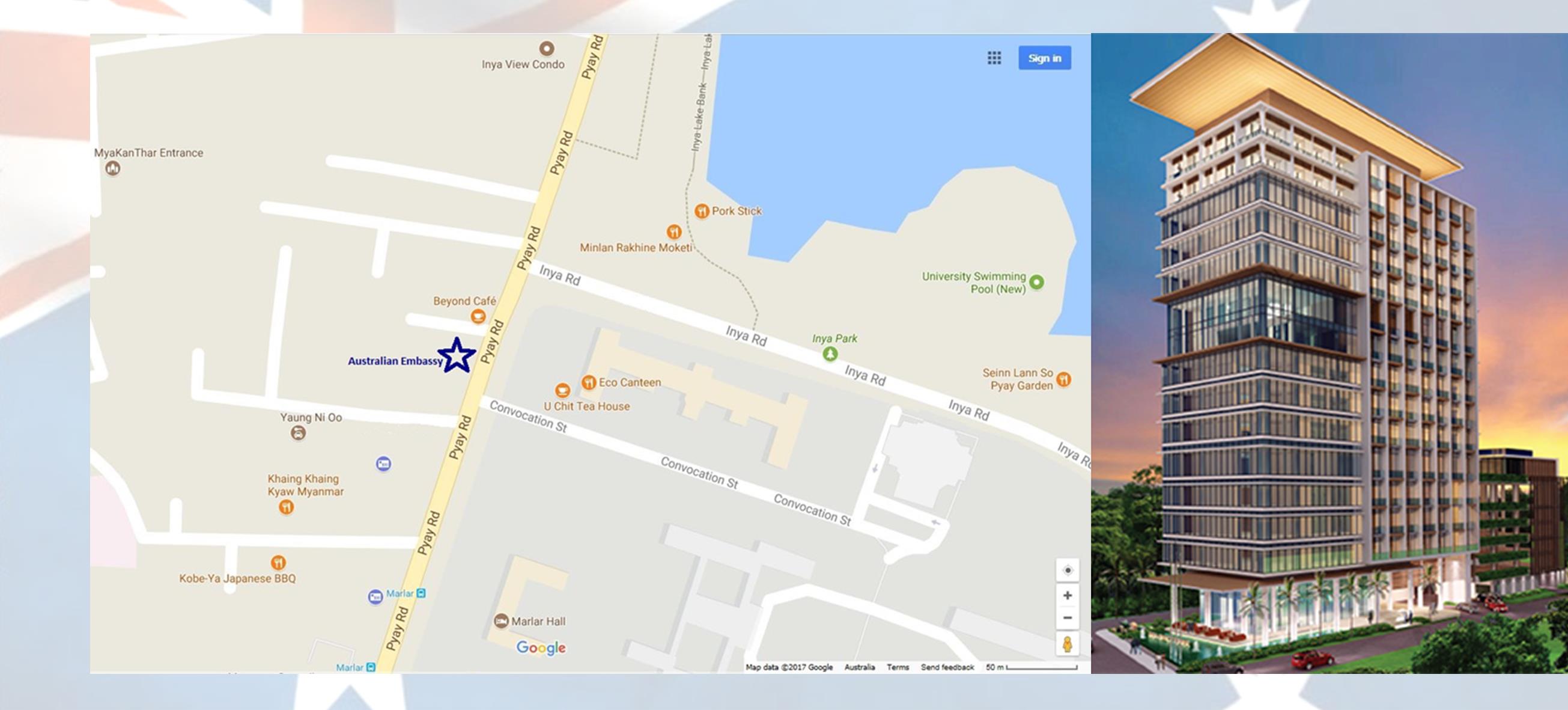 Coronavirus (COVID-19)
Last Updated: 6 April 2020
Booking Flights
From 31 March no international commercial flights will land in Myanmar.
Please contact airlines directly through local offices, Mobile Apps, Internet Websites and through Facebook.
Also, please give your travel agent a copy of your passport photo page. The agent can then quickly book the next available seat for you.
Myanmar Airways International (MAI) and All Nippon Airways (ANA) are trying to arrange flights out of Myanmar.
Qatar Airways and Singapore Airlines are trying to find departure options for foreign nationals.
Make sure you get health certificates and medical insurance paperwork for check-in and transit.
Transit
To confirm transit requirements before travelling use the International Air Transport Association (IATA) website: iata.org/en/programs/safety/health/diseases/government-measures-related-to-coronavirus.
You can also follow on Facebook the Australian Embassies in transport hubs such as Thailand, Malaysia, South Korea, Japan, Singapore and Qatar. These Embassies are posting onward flight information to help you.

Visas and entry into Australia
Make sure you've confirmed with Home Affairs travel approval for any visa holders.
Current Australian visa and entry restrictions please read:
State and territory border border and entry information:
Australian Passports
Need an Australian Passport please read:
Register with the Embassy
To register with us, please email consular.yangon@dfat.gov.au with the following:
Your full name (as per your passport or another official document).
Your passport or Permanent Resident reference number.
Your contact email and phone number.
Your address.
Details of any dependents with you in Myanmar.
Contact email and number for your family/next of kin in Australia.
Do you have a flight booking to depart Myanmar?
Any health or other risk factors we should be aware of.
Any other information you think relevant.
Can't get home or want to stay in Myanmar?
Contact family and friends in Australia (and elsewhere) regularly. Make sure they know you're okay and how to contact you.
Services are reducing and restrictions can increase at short notice. Areas with confirmed COVID cases are being isolated for 14 days to reduce spread.
Keep up to date by watching local news, following official Facebook accounts and regularly visiting official websites.
Follow the advice of the local authorities, they will try their best to help you.
Australians who can't get home please read:
Australians wishing to remain overseas please read:
Accommodation
To book accommodation please contact hotels directly, use websites or through travel agents.
Trip Advisor
Sunfar Travel
Myanmar 1st Hand
Money
Restrictions may increase at short notice. Please ensure you can access enough cash to cover current and future costs. You should have both Myanmar currency (Kyat or MMK) and USD.
See our Smartraveller Myanmar Travel Advice for tips on accessing money:
Extending your Myanmar visa
The Myanmar Immigration Office can assist with extending your visa. You may need a letter from your employer or sponsoring organisation. The Office's details are:
Address: Pansodan Street, (Middle Block), Kyauktado Township, Yangon
Telephone: 01-372903.
You may be required to get a letter from the Embassy to extend a tourist visa. Make an appointment by emailing austembassy.yangon@dfat.gov.au.
Medical Insurance
Medical facilities in Myanmar are extremely limited, particularly outside Yangon. If you are suspected of having COVID you will be quarantined in a local facility.
We strongly recommend you take our medical coverage to ensure access to medical services while you are in Myanmar. Below are links that give guidance on options, brokers and also insurance accepted by some private clinics operating in Myanmar:
How to keep in contact with the Embassy
The Embassy will continue to provide assistance, including remotely during the COVID pandemic.
You can email or call us. We will be able to arrange an appointment.
The Embassy's email is austembassy.yangon@dfat.gov.au and our reception number is +95 12307410.
If you need to contact us urgently use Australia's Global Emergency Consular Hotline number is +61(2)62613305.
Follow the Australian Embassy in Myanmar on Facebook: facebook.com/AusEmbMyr.
Visit the Australian Embassy Website: myanmar.embassy.gov.au
Subscribe to the Smartraveller Myanmar Travel Advice: smartraveller.gov.au/destinations/asia/myanmar.
Feeling stressed or anxious?
We know this is a difficult time and the Australian Embassy will be here to help.
Australia's Head to Health provides resources and support contacts to help deal with the stress and anxiety of the situation. Please visit:
More information on COVID
Following are more web links with official Myanmar and Australian information.
Australian Embassy Myanmar:
Myanmar Ministry of Health and Sports (MoHS):
World Health Organization Myanmar:
Australian Department of Health on COVID-19:
Australia Awards scholarships 2021 intake
Applications for the Australia Awards scholarships 2021 intake are now open! In view of the impact of COVID-19, the Australia Awards scholarships applications closing date will be extended to 30 June 2020. Applications close on 30 June 2020 (11:59pm Canberra time/ 8:29pm Yangon time).

Apply online through the OASIS system: https://oasis.dfat.gov.au. Please note that the OASIS system operates best on Internet Explorer.
Australia Awards Myanmar scholarships are for Masters-level study in Australia. In Myanmar, applicants are required to be 25 years or older at 30 April 2020. Applicants are also required to have a minimum of 2 years of work experience.
Australia Awards scholarships are prestigious international awards offered by the Australian Government to the next generation of global leaders for development. Through study and research, recipients develop the skills and knowledge to drive change and help build enduring people-to-people links with Australia.
Applicants are assessed on their professional and personal qualities, academic readiness and, most importantly, their potential to assume leadership roles upon their return to Myanmar and make significant impact on development challenges.
For more information:
Country Profile 2021: click here
Sample application form (pdf): click here
Sample application form (doc): click here
Referee report template: click here
Scholarships Policy Handbook: https://www.dfat.gov.au/sites/default/files/aus-awards-scholarships-policy-handbook.pdf
Media Release on Myanmar and the Rohingya crisis - 23 October 2018
The recent UN Fact-Finding Mission found that war crimes, crimes against humanity, and likely genocide had occurred in Rakhine State.
In response, the Government of Australia has decided to impose targeted financial sanctions and travel bans against five Myanmar military officers responsible for human rights violations committed by units under their command.
Australia will continue to support the humanitarian needs of those affected, and to work with Myanmar and our partners in the region to encourage efforts towards a long term and durable solution to the crisis.
Media enquiries should be directed to media@dfat.gov.au.
Media release: Myanmar and the Rohingya crisis, 23 October 2018
Humanitarian assistance for Myanmar and Bangladesh - 9 September 2017
Australia is deeply concerned by the escalating violence in Rakhine State in Myanmar and the resulting humanitarian crisis in Myanmar and Bangladesh.
We call for restraint by the Myanmar authorities, for the protection of civilians, and for unfettered access to be granted to humanitarian workers.
We recognise the heavy burden placed on Bangladesh as a result of the conflict. The United Nations estimates that over 270,000 people have now crossed the border in order to escape violence in Rakhine State.
Australia will provide up to $5 million to help respond to the crisis. Our assistance will contribute to life-saving food being provided to up to 300,000 people.
Australian support in Bangladesh will be provided through the World Food Programme and the International Organisation for Migration. In Myanmar, Australia will work with the Red Cross movement to reach those affected by the conflict.
This funding will bring Australia's assistance for Rohingya and affected communities in Myanmar and Bangladesh to over $50 million since 2012.
Australian Government statement on the situation in Rakhine State - 5 September 2017
Australia is deeply concerned by the escalation in violence in Rakhine State, including disturbing reports that civilians have been targeted and villages burned down.
We acknowledge Myanmar is dealing with a serious security challenge in Rakhine State following attacks on government forces on 25 August, which have been claimed by the Arakan Rohingya Salvation Army. We condemn all such violent attacks.
We urge all sides to exercise restraint and respect human rights. We reiterate our call for proportionality, the protection of civilians and an end to the use of violence.
We welcome the Government of Myanmar's commitment to ensure that humanitarian assistance reaches all communities in need and without putting people at further risk. Aid needs to flow quickly to vulnerable communities.
The events in Rakhine State underscore the urgency of implementing the recommendations of the Advisory Commission on Rakhine State as fully and quickly as possible. Australia stands ready to support Myanmar's efforts in this regard.
Australian Embassy statement on situation in Rakhine State - 29 August 2017
Australia strongly condemns the attacks against government security forces in northern Rakhine State. We offer our condolences to the victims and their families. Appropriate measures to bring the perpetrators to account should be taken. Violence will only worsen the many development, human rights and security challenges facing Rakhine State.
We urge respect for law and order and an end to the use of violence. It is important that civilian populations of all communities are protected and that all responses are proportional.
Violence is not the solution to Rakhine State's challenges. Recent developments underline the need for long-term solutions. We have commended the Government of Myanmar for establishing the Advisory Commission on Rakhine State and we welcome its commitment to implement the Commission's recommendations to the fullest extent and within the shortest timeframe possible. We support these efforts to restore stability, peace and hope to all people in Rakhine State.
Fee increases for Passports
Passport fees will increase in line with the Consumer Price Index (CPI) as of 1 January 2018. The new fee schedule is available on the Australian Passport Office's website. Please note fees must be paid in US Dollars in cash.
Fee increases for Notarial Services
There will be an increase in notarial fees from 1 January 2018. The new fee structure will better align with the commercial rates charged by public notaries. The new fee schedule is available here.
MEDIA RELEASE - Friday 2 September 2016:
More Australian students to study in Myanmar
85 Australian undergraduate students will study and undertake work placements in Myanmar in 2017 through the Australian Government's flagship New Colombo Plan education program.
"Students from five Australian universities will study a broad range of subjects including community legal education, architecture and political economy" said Ambassador Nicholas Coppel, Australian Embassy Yangon.
"New Colombo Plan mobility students will return to Australia with new insights and understanding about Myanmar and new friendships that will last a lifetime," Ambassador Coppel said.
New Colombo Plan 2017 mobility projects in Myanmar will see Australian students visiting Yangon Technological University and University of Yangon. Students will study in the fields of architectural design, legal English, and Myanmar's Political Economy.
"These are exciting projects that demonstrate the many opportunities for Australian students to deepen their academic and life experiences through study and work placements in Myanmar", Ambassador Coppel said.
The New Colombo Plan is an initiative of the Australian Government to lift knowledge of the Indo-Pacific by supporting Australian undergraduate students to study and undertake internships in the region.
For more information on the New Colombo Plan, visit www.dfat.gov.au/new-colombo-plan or follow @NewColomboPlan
Official Facebook page of the Australian Embassy in Myanmar
The Australian Embassy in Myanmar now has an official Facebook page. Like, Share and Comment with us at https://www.facebook.com/AusEmbMyr.
Humanitarian assistance to Myanmar
The Australian Government will deploy a package of humanitarian relief supplies to those displaced by flooding and landslides in Myanmar following Cyclone Komen.
In partnership with the Myanmar Government, Australian non-government organisations and the United Nations, Australia will provide family kits comprising kitchen sets, bedding, clothing, mosquito nets, hygiene kits and school supplies.
This assistance builds on the $2 million package announced on 5 August and brings Australia's total contribution to $3 million in response to a request from the Government of Myanmar.
Australia will work with Save the Children, CARE Australia and UN partners to provide 300,000 people with temporary shelter, safe drinking water and health care. We are also supporting emergency reproductive health services for those impacted by the natural disaster.
The Australian Government will continue to work closely with the Myanmar Government and partners to ensure that our humanitarian assistance is meeting the needs of the most affected communities.
Media release: Additional humanitarian assistance to Myanmar, 7 August 2015
Media release: Humanitarian assistance to Myanmar, 5 August 2015
Implementation of Australian Visa Application Centre (AVAC)
From 18 May 2015 applications for visas to Australia will need to be lodged at the Australian Visa Application Centre (AVAC), Yangon. See Implementation of AVAC.